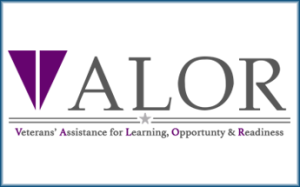 The Mayor's Office for Veterans Affairs (DC OVA) in Washington, D.C. identified a pressing and growing need to provide veterans, service members and their families with access to an financial empowerment program to help improve their financial capability and their long-term financial security. DC OVA engaged FELA to develop what is now known as the VALOR program. VALOR represents a successful public-private partnership and a model that has been successfully replicated in other markets and communities.
Solution
VALOR, or Veterans Assistance for Learning, Opportunity, and Readiness, is an innovative financial empowerment program with a focus on income stability and long-term financial security by helping Veterans improve their financial capability and become gainfully employed. VALOR helps Veterans to transition from active duty by providing access to proven and trusted financial education, workforce development and training programs. VALOR also embeds "financial readiness" education throughout the experience to ensure that Veterans can responsibly manage their financial resources while in school, in a training program, or in a new career.
VALOR is designed to develop a holistic view of the needs, goals, and aspirations of Veterans and their families. Through this much needed and invaluable evaluative process, VALOR first takes participants through a comprehensive "Financial Health Assessment". Based on those findings, VALOR then helps to connect participants to business and community partners who provide programs, services, and products related to the known needs of each individual.
One of the strengths of the VALOR program is that it has been designed specifically to produce meaningful outcomes for both participants and partners. The program design contributes to the generation of actionable data and metrics by which those outcomes can be measured – in real time.
Outcomes and Impact
The VALOR initiative officially launched on October 3, 2012 at press conference with Mayor Vincent Gray. Since that time FELA has provided leadership behind the program design, establishing desired outcomes, and engaging a growing network of partners. VALOR has provided dozens of classes and workshops through a growing network of partners including community based organizations, academic institutions, employers and financial service companies.
FELA recently launched "LifeCents for VALOR". LifeCents makes VALOR highly scalable so that it can be accessed by individuals across the city and region, through partners, and by individuals who might not have access to local resources. Participants will benefit by becoming more connected to a network of partners who can help them access much needed workforce training, education, and similar development programs. As importantly, the marginal cost of delivery for VALOR's programming is exceptionally low which makes VALOR a cost effective solution to sustain.
Ready for action?
Tell us what you're looking for and find out how FELA can make your dreams a reality.
I'm ready.
Tell me more.